Healthier Ginger Beef Stir-Fry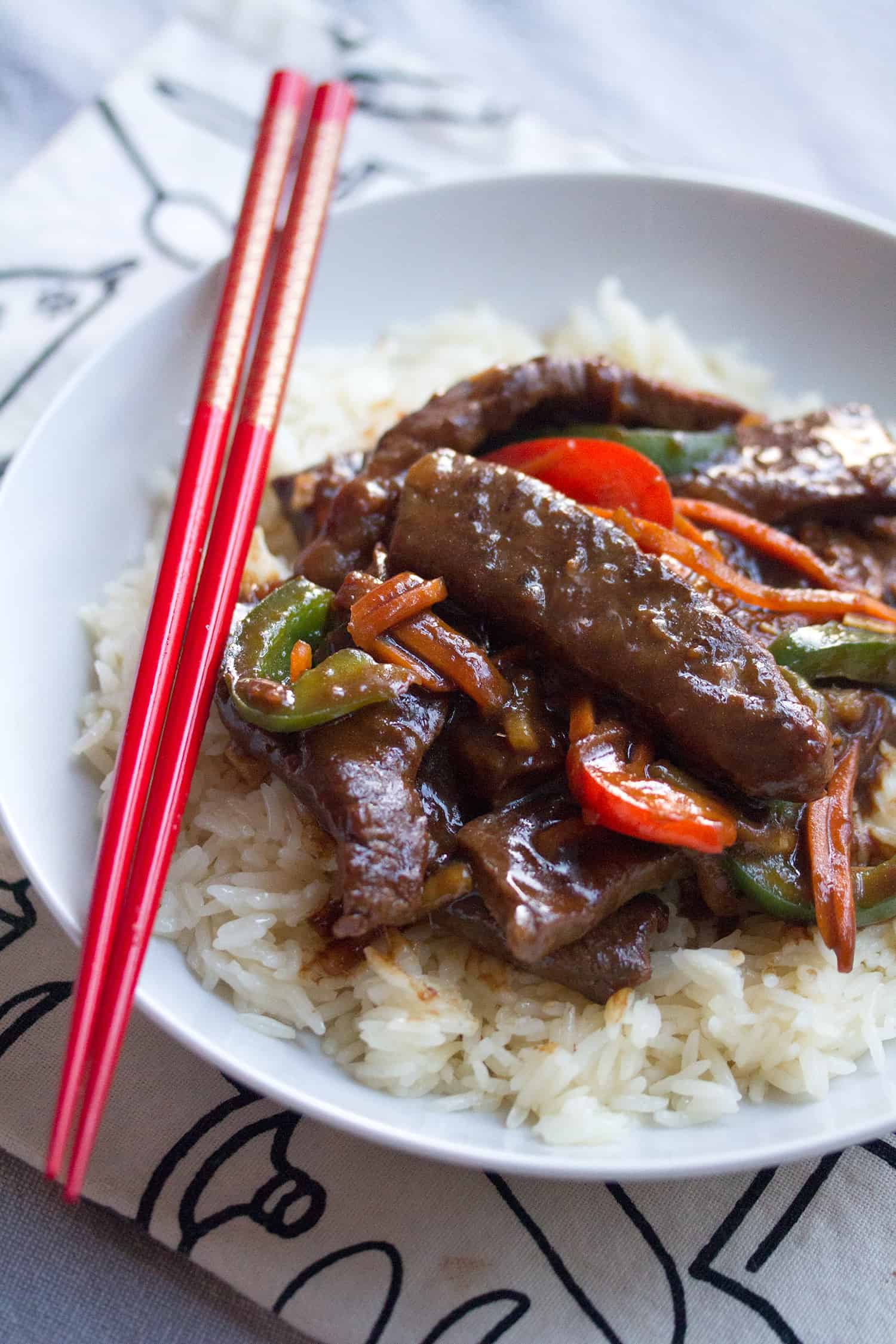 Author:
Isabelle Boucher (Crumb)
1 lb Ontario Corn Fed Beef stir fry strips
½ cup chicken broth
¼ cup light soy sauce
¼ cup hoisin sauce
¼ cup honey
2 tbsp rice wine vinegar
1 tbsp dry sherry
1 tbsp corn starch
2 tsp chili flakes
2 tbsp canola oil, divided
2 cloves garlic, finely minced
2 tbsp finely minced fresh ginger
1 large carrot, finely julienned
1 red bell pepper, thinly sliced
1 green bell pepper, thinly sliced
Sliced green onions, for garnish
In a small mixing bowl, combine the broth, soy sauce, hoisin, honey, vinegar, sherry, corn starch and chili flakes.
Add ¼ cup of the sauce over the beef strips and toss to coat. Cover tightly and place in the refrigerator to marinate for 30 minutes. Set aside the rest of the sauce for later.
Heat 1 tbsp oil in a wok or heavy skillet set over high heat. Add the marinated beef strips to the hot pan, discarding the marinade, and stir-fry until well browned on both sides. Using a slotted spoon, transfer the beef to a clean bowl.
Add the remaining 1 tbsp oil to the pan. Reduce heat to medium-high, and add the garlic and ginger. Stir fry for 1 minute, then add the carrots and peppers, and stir fry until the vegetables are tender-crisp, about 3 minutes.
Return the meat to the pan, along with the reserved sauce. Cook until the sauce is thickened and bubbly, about 2 minutes. Sprinkle with green onions, and serve immediately.
Recipe by
Crumb: A Food Blog
at https://www.crumbblog.com/healthier-ginger-beef-stir-fry/