Ginger Panna Cotta with Apricot Compote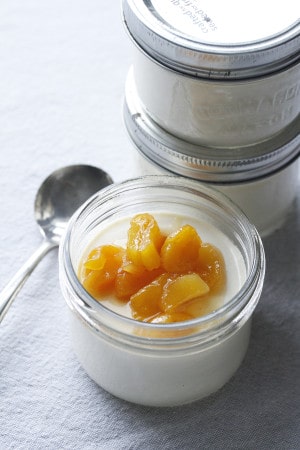 Author:
Isabelle Boucher (Crumb)
3 cups table (18%) cream, divided
2 tbsp Gourmet Garden Lightly Dried ginger
¼ cup maple syrup
1 tbsp unflavoured powdered gelatin
1 cup dried apricots, roughly chopped
¾ cup water
¼ cup brandy
6 cardamom pods, crushed with the flat of a knife
1 cinnamon stick
¼ cup honey
To make panna cotta, heat 2 ½ cups cream in a small saucepan over medium-high heat until it reaches a bare simmer. Remove from heat, and stir in the Lightly Dried ginger. Let stand for 20 minutes to allow the flavour to infuse.
Meanwhile, bring the remaining ½ cup cream to a simmer in a second small saucepan. Reduce heat to low, and sprinkle with gelatin. Simmer, stirring occasionally, until the gelatin is dissolved. Set aside.
Strain the infused cream through a fine mesh strainer lined with cheesecloth. Return to a simmer, then remove from heat and stir in the maple syrup and the dissolved gelatin. Let cool to room temperature, stirring occasionally.
Divide the cooled custard between six lightly buttered ½-cup ramekins. Cover with plastic wrap and transfer to the refrigerator to set up completely, at least 2 hours or up to 2 days in advance.
In a small saucepan set over medium-high heat, stir together the water and brandy. Bring to a simmer, then reduce heat to low and add the apricots, cardamom and cinnamon stick. Simmer for 15-20 minutes, or until the apricots are soft and plump. Stir in the maple syrup and continue simmering for 5 minutes longer, or until the liquid is thick and syrupy.
Remove and discard the cardamom pods and cinnamon stick. Set aside to cool off completely.
Remove the lids from the mason jars. Divide the compote between the mason jars, and serve immediately.
Recipe by
Crumb: A Food Blog
at https://www.crumbblog.com/ginger-panna-cotta-with-apricot-compote/