Cheesy Herbed Popovers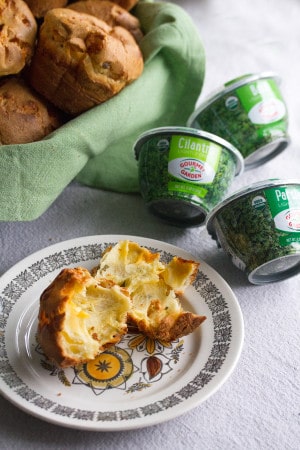 Author:
Isabelle Boucher (Crumb)
1 cup lukewarm milk
3 large eggs
1 cup flour
1 tsp kosher salt
2 tablespoons unsalted butter, melted (plus more for greasing the pan)
½ cup grated cheddar cheese
2 tbsp Gourmet Garden Lightly Dried herbs (use your favourite herb or a mix)
Preheat over to 450F. Very generously grease 10 cups of a regular muffin tin (preferably non-stick), and fill the remaining 2 cups with a small amount of water.
Using a blender, mix together the milk and eggs. Add the flour and salt, and blend briefly to incorporate the flour. Scrape down the sides with a spatula then, with the blender running, drizzle in the melted butter. Blending until the batter is smooth and mostly lump-free. Stir in the grated cheddar and herbs.
Pour batter into well-greased muffin tins or cast iron popover pans. Pour the batter into the greased cups, filling them about ¾ full.
Bake in preheated oven for 30 minutes, the lower heat to 350F and continue baking for 15 minutes or until puffed and golden brown.