Toffee-Cinnamon Banana Bread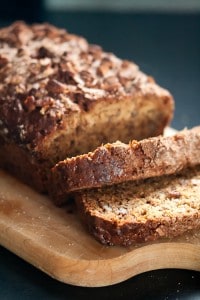 1½ cup flour
½ cup quick-cook rolled oats, uncooked
½ cup brown sugar
1 tsp cinnamon
½ tsp salt
½ tsp baking soda
¼ tsp baking powder
3 very ripe bananas, mashed (~1 cup)
2 eggs, beaten
¼ cup plain Greek yogurt
1 tbsp walnut or canola oil
½ cup chopped pecans (optional)
½ cup toffee bits (ie. Skor or Heath chips)
1 tbsp sugar
½ tsp cinnamon
¼ cup chopped pecans
Preheat oven to 350°F. Grease and flour a loaf pan and set aside.
In a large mixing bowl, stir together flour, oats, brown sugar, cinnamon, salt, baking soda, and baking powder.
In a second mixing bowl, mix together the banana, yogurt, oil and eggs until smooth. Add to the dry ingredients, and stir until the batter just barely comes together. Fold in the pecans, if using, and toffee chips. Pour batter into prepared pan.
In a small bowl, stir together the topping ingredients, and sprinkle evenly onto the batter.
Bake in preheated oven for 45 to 50 minutes, or until the top of the loaf feels firm to the touch and a toothpick inserted into the centre comes out with a moist crumb. Let cool in the pan for 5 minutes, then unmold and transfer to a wire rack to cool completely before slicing.
Recipe by
Crumb: A Food Blog
at https://www.crumbblog.com/secret-recipe-club-toffee-cinnamon-banana-bread/